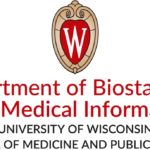 Website Department of Biostatistics and Medical Informatics at UW-Madison School of Medicine & Public Health
The home of data science in SMPH
Consider applying for a tenure-track faculty position in social genomics within the Department of Biostatistics and Medical Informatics (BMI) in the School of Medicine and Public Health at the University of Wisconsin-Madison. This is one of three faculty positions in the social genomics cluster. (https://facstaff.provost.wisc.edu/cluster-hiring-initiative/)
BMI faculty and staff conduct research and collaborate with other on a wide range of scientific research including biostatistics, machine learning, artificial intelligence, clinical trials design and analysis, population health, health outcomes research, computational imaging, statistical genetics and genomics, etc. The department is a great place to work and offers a strong, supportive professional community.
Madison (https://madisonbiz.com/) is the capitol city of Wisconsin and home to UW-Madison, and one of the top research universities in the country.
Tenure-track assistant or associate professor of social genomics with an assured consideration date of March 21, 2023. Apply to position number 275130 at the UW Jobs website:  https://jobs.hr.wisc.edu/en-us/job/517237/assistant-associate-professor-of-social-genomics-cluster-hire
We encourage all qualified candidates to submit complete applications by the assured consideration date.
Thank you for considering UW-Madison.