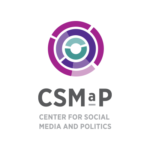 Website NYU Center for Social Media and Politics
The NYU Center for Social Media and Politics studies the influence of social media on politics, and develops new and innovative ways to measure such influence. Postdocs work on projects that could include: analyzing the behavior of bots in elections, working with survey data merged with respondents' social media behavior, analyzing Facebook data made available through the Social Science One program, identifying which users are most influential in online networks, examining the impact of YouTube and other sites on news consumption of individuals, the spread of disinformation through social media platforms, and studying how and what individuals learn from social media during the 2020 U.S. election campaign.
We are looking for a postdoc with a strong research background and advanced technical skills. Experience with research in one or more of the following areas is desirable: active learning, deep learning, or machine learning. A Ph.D. degree in Computer Science, Data Science, Statistics, or a social science field with a background in machine learning and data science is required.
The directors of the Center for Social Media and Politics are actively seeking a diverse group of students, engineers, postdocs, faculty collaborators, and staff, and encourage applicants from all backgrounds to apply. We believe in the importance of diversity as a key to the long range, health, and vibrancy of the field, as well as its ability to create a more stimulating intellectual environment.
This is initially a one year position, with the potential for renewal up to three years.  
CSMaP consists of three core faculty directors covering fields of Political Science, Computer Science, and Computational Biology, as well as software engineers, data scientists, PhD students in both Political Science and Data Science, affiliated faculty at NYU and other institutions, and undergraduates. The lab maintains a broad research agenda with many projects moving forward simultaneously. Recent publications and/or working papers have centered on the consumption of fake news, the distribution of media consumption by individuals, the links shared by IRA Troll accounts in the 2016 US election, how (competitive) authoritarian regimes respond to online opposition, and the prevalence of hate speech on Twitter.
The Postdocs will work with the faculty directors and others to conduct cutting edge research: analyzing data using tools of modern machine learning, designing data collection schemes, developing and testing new algorithms, and producing code and writing up results. Postdocs are expected to participate in co-authoring multiple lab papers.
Feel free to contact any of the faculty directors for more information: Rich Bonneau (rb133[at]nyu.edu), Jonathan Nagler (jonathan.nagler[at]nyu.edu), or Joshua Tucker (joshua.tucker[at]nyu.edu).