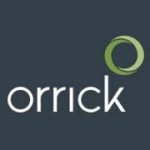 Website Orrick, Herrington & Sutcliffe LLP
Orrick is looking for a Head of Data Science & Strategy who is ready to join a dynamic team of innovation professionals. This a hybrid position that could be located in one of the following offices: Austin; Boston; Houston; Portland; Washington DC, Wheeling, WV or London.
In this role you work closely with the Chief Innovation Officer (CIO) and other senior stakeholders from across the business to bring a formal, clear data strategy and data governance program to the organization using your Strategic Influence, Operational Delivery and People Leadership skills.  You will build and lead a best in industry team of data professionals and be accountable for developing and advancing the firms capabilities in using and analyzing data.
Responsibilities: 
You will design a Data & Analytics Strategy building a data strategy roadmap, promoting, and standardizing the capture use and governance of data and analytics.
You will engage with stakeholders to help accelerate a cultural shift by which data and analytics moves from supportive to fundamental for digital business transformation.
You will facilitate the unlocking and sharing of data in ways which will spur innovation, enable new revenue streams, and create business opportunity from the firm's data.
You will establish and drive sustained improvement on data governance practices standardizing processes for reuse across the firm.
You will drive the efficiency and reduction in cost of managing data while increasing the value of the firm's data and use business intelligence tools, data, analytics, and artificial intelligence to enhance pricing and profitability
You will use data, information, and insights to develop new and deepen existing client relationships.
You will use artificial intelligence, machine learning, natural language processing, and other emerging technologies to streamline processes, automate tasks, and increase operational efficiency.
You will develop and apply meaningful metrics for the data management function and component projects to assess progress in capability building and enhance awareness for leadership and internal stakeholders.
You will make continued progress towards the maturity of data management practices following an agreed framework and model for regular appraisals.
You will implement our Enterprise Data Lake Platform, envisioning and working towards a well-organized, efficient data architecture in line with enterprise architecture.
You will collaborate with business data experts to achieve incremental enhancements to the data glossary, metadata management, and data quality initiatives outlined in the Data Strategy.
You will establish communities across the firm to formulate best practices, knowledge sharing, and better ways of working towards data driven decision making and keep current on the evolving business and tech landscape including advancements by our peers and in other industries
About You:
You are a creative thinker with 7+ years of relevant, progressively responsible experience in data management, implementing data governance, and understanding the underlying technologies needed to enable data innovation.
You have a comprehensive understanding of Technology including Architecture, Software, Hardware, Infrastructure, Applications, Data Architecture and overall Technical Design.
You have a four-year degree in technology, engineering or a related discipline, or equivalent experience.
You are certified in or have a demonstrated understanding of methodologies such as TOGAF, CMMI, DAMA.
You think both strategically and operationally and have an international mindset.  You take initiative and follow-through.
You have a keen eye for detail and can manage multiple projects, stakeholders, clients and teams in a fast-paced and demanding environment.
You promote collaboration by unifying teams, setting common goals, and incentivizing collaborative behavior and work well among a group of high-performing peers.
You have well-honed presentation skills and with the ability to influence senior stakeholders.
You are passionate about developing and leading your team and supporting their careers.
You represent the firm's core values of 'approachable', 'bold' and 'connected'.
Who is Orrick? Orrick is a global law firm focused on serving the technology & innovation, energy & infrastructure and finance sectors. Founded more than 150 years ago in San Francisco, Orrick today has offices in 25+ markets worldwide. We are recognized worldwide for delivering the highest-quality legal advice through our diverse teams and for our culture of innovation and collaboration.  Financial Times selected Orrick as the Most Digital Firm of 2020, and in the past five years, the Most Innovative Law Firm of the Year three times and runner-up twice. For the seventh year in a row, Fortune named Orrick to its 2022 list of the 100 Best Companies to Work For.  Learn more about our awesome employee experience here: Fortune 100 Great Place To Work certified company*.
Orrick is committed to providing a comprehensive, thoughtful total compensation package to our attorneys and staff, wherever they work.
The amount of pay offered will be determined by a number of factors, including but not limited to qualifications, relevant experience, primary work location, market data, and internal equity.  Other compensation may include an annual discretionary merit bonus, which would be determined by Firm and individual performance. 
We offer a full range of elective health benefits including medical, dental, vision and life insurances; robust mental well-being benefits; child, family, elder, and pet care benefits; short- and long-term disability benefits; a health savings account (w/applicable medical plan), flexible spending accounts, long-term care insurance, and a 401K program. Eligible employees will receive compensated time off through either a Paid Time Off or Flexible Time Off program (depending on position), generous Parental leave benefits, and paid holidays.
Please visit www.orrick.com for more information about the firm.
How to Apply: If you are searching for a chance to create an impact, you have a little grit and you love working with a team, we want to talk with you. To submit your resume and cover letter for this position, please visit our Staff and Paralegal Opportunities Listings at www.orrick.com/Careers.  If you are interested in the London office, please email your resume to aguy@orrick.com.
No phone calls please.
What you need to know:  Successful applicants will be required to provide proof of being fully vaccinated against COVID-19 prior to the commencement of employment. Applicants who wish to apply for a medical, religious accommodation or any other accommodation required under applicable law can do so later in the process (accommodations are not guaranteed and are decided on a case-by-case basis).
We are an Equal Opportunity Employer.
Consistent with the SF Fair Chance Ordinance, an arrest and conviction record will not automatically disqualify a qualified applicant from consideration.
Qualified applicants with criminal histories will be considered for the position in a manner consistent with the requirements of the Los Angeles Fair Chance Initiative for Hiring