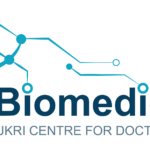 Website BioMedAI_CDT UKRI CDT in Biomedical AI, University of Edinburgh
12 fully funded studentships are available for 2021 entry at the UKRI Centre for Doctoral Training in Biomedical Artificial Intelligence at the University of Edinburgh. Our 4-year programme offers tailored training and cutting-edge research spanning AI, biomedicine and social sciences.
http://biomedical-ai.inf.ed.ac.uk/
Building on a tradition of world-leading research and innovation at Edinburgh, our Centre will train a new generation of interdisciplinary scientists who will shape the development of AI within biomedical research over the next decades. Our students will be equipped with all the technical skills to realise biomedical breakthroughs through AI while anticipating and addressing the societal issues connected with their research.
Training Programme
The CDT programme follows 1+3 format. In Year 1 you will study towards a Master by Research, undertaking a number of taught courses and taster research projects to broaden and refine your skills and explore different research areas. In Year 2-4 you will propose and pursue an interdisciplinary PhD project under the joint supervision of an AI expert and an application domain expert.
Throughout the programme, you will be working in a collaborative and stimulating environment, underpinned by cohort-driven activities, joint problem solving and peer support. There will be plenty of opportunities to showcase your work at local, national and international conferences. You will also undertake masterclasses, research visits and internships with our partners.
Programme benefits
Fully funded 4-year studentship, covering tuition fees, stipend and travel/research support.
Extensive choice of projects at the intersection of AI, biomedicine and social sciences, under guidance of world-leading researchers and clinical experts.
Interdisciplinary training programme comprising a bespoke bootcamp, taught courses, workshops, taster projects and other activities.
Opportunities for joint projects, research visits, internships and other collaboration with our extensive network of research and industry partners worldwide.
Tailored training in public engagement, entrepreneurship awareness, responsible innovation and leadership skills.
Wide variety of CDT events throughout the year, including seminar series, masterclasses, summer school, conferences, guest lectures and industry days.
State-of-the-art facilities and vibrant world-class research community at the University of Edinburgh.
Our commitment to be a fair and inclusive programme which fosters responsible research practice and careful consideration of the societal impacts of our research.
Entry requirements
Applicants with a UK 2.1 honours degree, or its international equivalent, in computer science, mathematics, physics, engineering, biomedical science or social sciences or a related discipline with relevant technical experience are welcomed to apply.
Funding
CDT studentships fund 4 years of study, covering tuition fees, stipend and travel/research support.
Deadline
Deadline for applications: 14 December 2020
More information and how to apply: http://biomedical-ai.inf.ed.ac.uk/